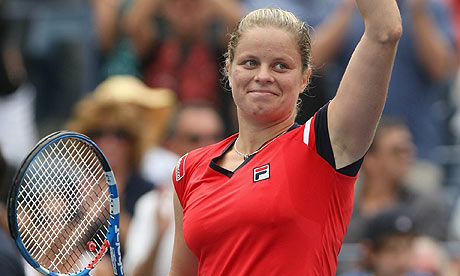 Photograph: Nick Laham/Getty


Kim Clijsters reached the US Open final in dramatic circumstances after Serena Williams received a point penalty on match point for abusing an official.
The Belgian was two points from victory when Williams, who had earlier been given a code violation for racquet abuse, was called for a foot-fault.
Williams launched an angry outburst at the official and got the point penalty.
Denmark's ninth seed Caroline Wozniacki beat Belgian Yanina Wickmayer 6-3 6-3 in the second semi-final.
Asked afterwards exactly what she had said, Williams insisted: "I don't remember any more, it was in the moment - it was a really crucial point. I haven't really thought about it to have any regrets."
She added: "I didn't think I would get a point penalty, I didn't think about it."
After a frustrating day of rain at Flushing Meadows, the women's semi-finals - originally scheduled for Friday - did not begin until 9.21pm local time in New York.
The much-anticipated clash between defending champion Williams and 2005 champion Clijsters, playing only her third tournament after a two-year spell in retirement, took place in front of a relatively small crowd on Arthur Ashe Stadium.
It was the Belgian, 26, who edged a terrific contest for the best part of two sets, breaking serve in game 10 to clinch the first set and recovering an early break in the second.
And with Clijsters closing in on a sensational victory, the pressure told on Williams.
She had been given a code violation for smashing her racquet at the end of the first set and, serving to stay in the match at 6-5 down in the second, her anger resurfaced.
At 15-30 and two points from defeat, Williams missed with a first serve and was then called for a foot-fault on the second.
That prompted the American to move towards the line judge in question gesturing angrily and verbally abusing her.
The official then went to the umpire to report what had been said, and Williams was heard to respond: "I didn't say I would kill you, are you serious?"
Williams would later say that this part of the exchange had been a misunderstanding, but she had already done enough to receive a point penalty, which is the automatic next step following a code violation.
With US Open referee Brian Earley and Grand Slam supervisor Donna Kelso on the court, Williams went around the net to shake hands with Clijsters before waving to the crowd on her way down the tunnel.
"I said something and I guess they gave me a point penalty and unfortunately it was on match point," she said.
"Clearly in all this year I've never, never been foot-faulted and suddenly in this tournament they give me foot faults.
"I'm not saying I don't foot fault, but it was what it was. I've never been in a fight in my whole life so I don't know why she would feel threatened. I'm clearly not happy."
Clijsters was left looking stunned as she sat on her chair contemplating the bizarre manner of her victory.
"I was trying to stay focused for the match and was facing the other way," she said.
"I saw Serena talking to the linesman, but I was too far way to hear what she was saying so I can't really comment on what was happening out there."
It took the shine off a tremendous performance from the Belgian that makes her the first woman to reach a Grand Slam final as a wild card.
And she will go into the final as favourite against Wozniacki, who had never been past the fourth round of a Grand Slam before this week.
Source:
bbc sports news
more details at
nationalpost.com
After a frustrating 3 day wait for the women's semis (due to rain) who would have predicted this!.
Many hoped for it, but no one really believed it. Well, except for Kim apparently who came out in full force. And beat Serena in straight sets 6/4 7/5.
As for Serena, well it's no secret that I've never been a big fan of hers, and the above article is a perfect example of why.
She may play brilliant tennis at times (if you can call ball-bashing brilliant).
But she has always had the worst sportsmanship of any of the women on tour. Even her sister Venus has better manners.
For a champion who has won 11 grand slams you would think she would learn to lose with dignity.
But as always that giant ego of hers just won't allow for it. She never gives credit where credit is due (that press conference was shameful).
As Mary Carillo pointed out she should win an Oscar for that performance. I feel so bad for Clijsters no player wants to win in such a fashion, you always wanna fight till the last point.
Regardless of all that I'm ecstatic Kim won. She was clearly out playing Serena, who just couldn't handle defeat so she opted for a tastelessly disgraceful way out.
I must say I'm quite impressed by how well Kim handled herself throughout.
Unlike in previous matches at this tournament she didn't lose her focus once she won the 1st set, but instead continued to forge on with great serving and absolute great returns.
If she plays the same way tonight against Caroline Wozniacki she's a shoe in for the title (it would be the second U.S. Open of her career). Go for it Kim, you deserve it! :).
For those who perhaps didn't get the chance to see the match here is the dramatic match point in all it's ugly glory: